The Project
Tonika Lewis Johnson's Folded Map™ Project visually connects residents who live at corresponding addresses on the North and South Sides of Chicago.* She investigates what urban segregation looks like and how it impacts Chicago residents. What started as a photographic study quickly evolved into a multimedia exploration with video interviews. The project invites audiences to open a dialogue and question how we are all impacted by social, racial, and institutional conditions that segregate the city. Her goal? For individuals to understand how our urban environment is structured. She wants to challenge everyone to think about how change may be possible and to contribute to a solution.*This is an ongoing project, which will have more interviews, an interactive mapping website and a Chicago West Side study as well.
Folded Map™ Project is supported by The Chicago Community Trust
The Exhibition
This multimedia investigation is comprised of photography, videos and an interactive large-scale map of the city grid for participants to find their "map twin". First exhibited at Loyola University's Museum of Art (LUMA) in 2018 from July-October, there are plans to exhibit in Englewood for the next run.
Address Pairs
Using Chicago's grid system, Tonika photographed the same address, just on opposite sides of the city. These Address Pairs serve not as mirror images of each other, but reflections on the history of Chicago—specifically the effect of years of disinvestment and segregation.
"Map Twins" portraits
While documenting the address pairs, conversations began with the residents, which evolved into true boundary crossing: connecting seemingly different people with real conversations. Photographing these "Map Twins" was the next natural stage in the project.
"Map Twins" videos
What's the sociological impact of segregation? The Map Twins were interested in getting to know one another, so Tonika encouraged them to experience each other's neighborhoods while she filmed the exchanges. See the full video here or click below for snippets.
Special thanks and credit to Paola Aguirre for the large-scale interactive exhibition Map installation.
PROJECT CONTEXT:
Race & Redlining
A direct result of past racist policies, Chicago is one of the most segregated cities in the U.S. Residents have held preconceived notions of different neighborhoods, based on lines drawn in the past. The practice of denying loans based on race is illegal today, but the effects of redlining are still seen in the segregated neighborhoods of Chicago and other major cities.
A PERSONAL TOUCH:
Workshops
From classrooms to corporate offices, Tonika is currently walking people through the origins and inspirations behind this project, as well as providing a hands-on, direct interactive experience. Booking her for a speaking engagement/workshop not only serves your audience in an impactful way, but financially supports this project.
SPIN-OFF:
The Stage Play
The origin story of the Folded Map™ Project brought to life. This theatrical production shares Tonika's lived experiences and is the perfect way to help people understand how Folded Map was created. First shown at the Pentagon theater in Wicker Park (in partnership with Collaboraction production company), the latest run was held at Kennedy-King College in Englewood.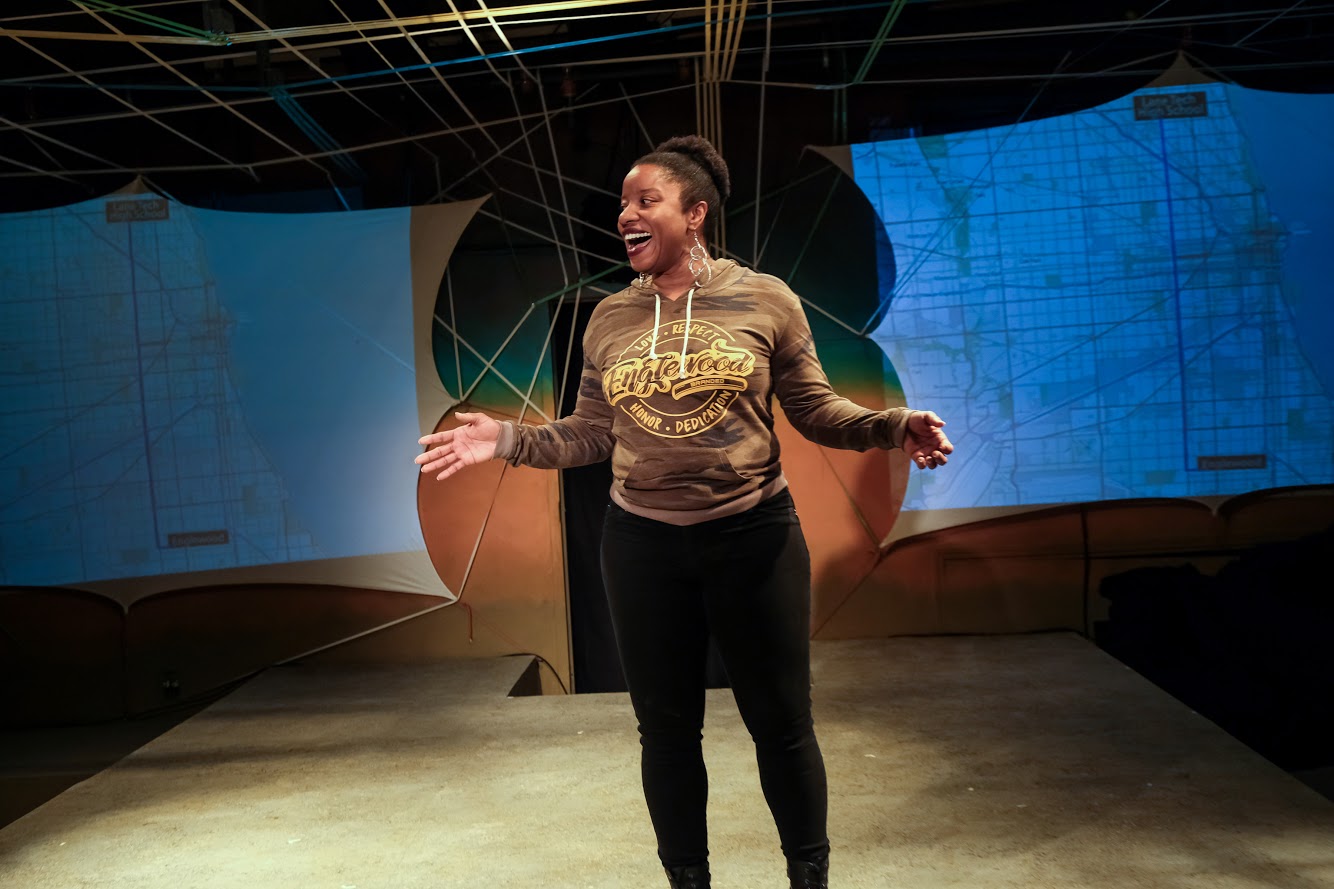 FUTURE PLANS:
A Curriculum
The artist commuted to high school on the North Side from the South Side, and witnessed firsthand the varying degrees of investment and quality of life. The fact that the seeds of the Folded Map™ project were planted in Tonika's mind as a teenager is a pertinent one. She's currently working with Chicago Public Schools on a curriculum, and soon you'll be able to download lesson plans. There is innate value in having tough discussions with youth, and in youth-focused spaces and educators. Sign up for updates to be notified.
Press
Tonika (a 2017 "Chicagoan of the Year") is committed to furthering the discussion. She challenges not just Chicagoans, but everyone to continue this dialogue and consider possibilities to foster equity through changing perceptions. If your media outlet is interested in this project to-date (and the future iterations to-come) Inquire below.
SUPPORT
WILL YOU HELP The project?
Folded Map is in the process of applying for 501c3 status and although donations aren't currently tax-deductible, it will immediately make a big impact toward future iterations of this healing, sociological art project.